Big Jake: World's Tallest Horses
| | |
| --- | --- |
| Height: 6.89 feet | Weight: 2600 pounds |
Big Jake – World's Tallest Horses: Big Jake was a red flaxen Belgian gelding who was known for his unusually tall stature. He was 20.234 hands tall and weighed 2,600 pounds. His enormous height made him famous around the world.
Sampson: World's Tallest Horse
| | |
| --- | --- |
| Height: 7 feet 2 inch | Weight: 1524 kg |
In 1846, a shire horse gelding named Sampson was born in Toddington Mills, Bedfordshire, England. He was the tallest and heaviest horse in recorded history.
Sampson stood 2.19 metres (7 ft 2 in) high by the time he was four years old, when he was renamed Mammoth.
His peak weight was estimated at 3,360 lb (1,524 kg)
Brooklyn Supreme – Big Jake – World's Tallest Horses
| | |
| --- | --- |
| Height: 6′.6″ | Weight: 1451.5 kg |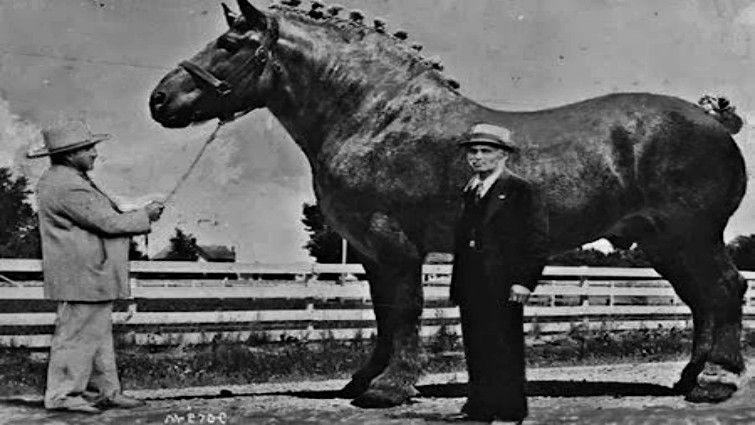 Brooklyn Supreme was a giant horse that stood 19.2 hands tall and weighed over three thousand pounds. He was a Belgian draft and was the tallest horse in history. He was born in 1928 and lived until September 6, 1948. The horse was an imposing sight and was known to be gentle and loved to steal food from children. Sadly, Brooklyn Supreme did not live to the age of thirty, but his memory lives on.
Clydesdales
| | |
| --- | --- |
| Height: 5.57 feet | Weight: 1800 – 2300 pounds |
Clydesdale horses are incredibly large and powerful equines. Their large size and strength have made them famous, including in famous beer commercials. This breed of horse is endangered, which makes them an especially important breed for conservation efforts. They can grow to be over two thousand pounds when fully mature and stand sixteen to eighteen hands high. Clydesdales are gentle and trainable, making them an excellent choice for people looking for a large horse.
Belgian Drafts
| | |
| --- | --- |
| Height: 7 feet | Weight: 900 – 2000 pounds |
Belgian draft horses typically stand 17 hands and weigh between 900 kilograms and 2,000 pounds. Big Jake, the current world record holder, is the tallest horse in the world and lives at Smokey Hollow Farm in Wisconsin. He was born weighing 240 pounds and has grown to be 7 feet tall, weighing in at nearly 3,000 pounds. Big Jake loves attention and crowds.
Shires: Tallest horse
| | |
| --- | --- |
| Height: 7 feet | Weight: 850 – 1100 kg |
If you are a horse lover, then you may be wondering whether Shires are taller than other breeds. The answer is yes. In fact, the Shire breed is among the tallest in the world. However, the largest horse breed is the Clydesdale. The average male Clydesdale stands about 19 hands, or 6 feet and 3 inches. However, the largest Clydesdale, known as Poe of Ontario, Canada, is possibly the tallest in the world, standing at 20.2 hands, or nearly seven feet tall.
Checkout more Tallest experiences at Thetallest.net!!